A Leader in Text-to-Speech Technology for Aviation
StarCaster® uses exclusive Text-to-Speech technology purpose-built for aviation that
creates clear and consistent broadcasts in a natural voice
STAR

caSTeR
StarCaster® D-VOLMET obtains weather information automatically in textual format from various data sources and converts it into high quality voice output. This output can then be provided to aircraft in flight via HF or VHF radio through continuous or regularly-scheduled broadcasts.
WHY STARCASTER® D-VOLMET
• Clear, natural voice

• Enhances flight safety

• Reduces workload

• User-friendly

• Reliable

• Cost-effective
VOLMET VOICE BROADCASTS
• HF/VHF radio using Analog outputs

• ED-137 compliant VoIP

• Datalink connectivity to ACARS-equipped aircraft
DATA SPECIFICATIONS
• Automatically receives and processes weather information from various sources including: AFTN/AMHS, AIM/AIS, NWS/NOAA, SWIM and manual entry.

• In addition, receives METAR, SPECI, TAF and SIGMET information.
Key Features
For managers of flight service stations who need a reliable method of generating VOLMET broadcasts that pilots can easily understand
CONTACT US TO BOOK A DEMO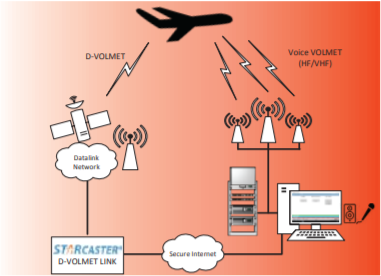 CLEAR, NATURAL VOICE
Exclusive Text-to-Speech (TTS) technology generates the most natural sounding voice with unrivalled clarity.
RELIABLE BROADCASTS
Organizes weather information from various domestic and international aerodromes for continuous or scheduled broadcast cycles.
DATALINK CONNECTIVITY
Simultaneously transmits the D-VOLMET message to ACARS-equipped aircraft through a datalink service provider (ARINC/SITA).
WEB-BASED
Web-based Human Machine Interface (HMI) provides easy access from any workstation for both operational and maintenance personnel.
MULTIPLE LANGUAGES
Produces VOLMET broadcasts in English, French, Portuguese and Spanish with other languages available upon request.
SUPERIOR QUALITY
Highly reliable and supported by a fully-redundant configuration.
Contact Us
Thank you for visiting us! Your call will be responded to promptly by our team.
Address:
212 – 1001 Cloverdale Avenue
Victoria, British Columbia V8X 4C9 Canada
Hours:
Monday to Friday 8:30 am – 5 pm.
(Pacific Standard Time) (GMT -8).