STARCASTER D-ATIS
YOUR GRF BROADCASTING SOLUTION

Concept of Operations for the Mandatory Broadcast of GRF by D-ATIS
How is the runway assessed?
The Aerodrome Operator is the responsible party to assess the runway and generate the Runway Condition Report (RCR), provide an updated RCR as runway conditions change and ensure it meets the mandatory ICAO GRF requirements.
How is the RCR distributed to D-ATIS?
The RCR is distributed by the Aerodrome Operator to ATS Personnel for promulgation. The RCR can be automatically received and handled by StarCaster® or manually entered by ATS Personnel utilizing the StarCaster® RCR Editor interfaces.
How is the RCR processed by D-ATIS?
Upon receipt of RCR data, StarCaster® provides the funcitionality for ATS Personnel to view, edit, create and listen to a new ATIS message prior to broadcast. The ATIS message includes the Aeroplane Performance Calculation Assessment and Situational Awareness Sections of the RCR.
Why is it mandatory to broadcast the RCR?
Runway surface condition is one of the major contributors to runway accidents/incidents impacting runway safety. Assessing and reporting the runway condition via D-ATIS is mandatory to ensure the flight crew has access to all critical information required for safe operation of the aeroplane.
GRF IS A MANDATORY REQUIREMENT
FOR ALL AIRPORTS
The implementation date for the ICAO Global Reporting Format (GRF) is scheduled for November 4, 2021.

The ATIS is the mandatory source for reporting the Runway Condition Report (RCR) to pilots via VOICE-ATIS and D-ATIS. StarCaster® is a comprehensive D-ATIS solution that enhances aviation safety by efficiently and accurately processing RCR data received by Air Traffic Services.

StarCaster® is built to seemlessly interface with all 3rd party aviation and weather systems in order to reliably broadcast the RCR to pilots in compliance with all ICAO and Regional GRF requirements.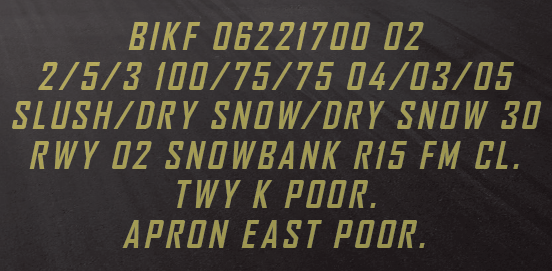 SAMPLE RCR DATA FOR WINTER CONDITIONS
FOR ALL REGIONS AND CLIMATE ZONES
StarCaster enables accurate and reliable RCR/GRF reporting for all runway conditions
WET CONDITIONS
It is a common misconception that GRF applies only to airports with winter conditions.

For regions with non-winter conditions, water is the critical contaminant. Water on top of rubber deposits, standing water or even just a wet runway surface can be very slippery and impact the safety of aircraft operations. To improve runway safety, the new ICAO GRF methodology makes it mandatory to report all wet runway conditions to pilots as these conditions affect the take-off and landing performance of aircrafts.

StarCaster® is a flexible D-ATIS broadcasting solution designed to streamline the GRF reporting process for regions experiencing wet only conditions.
WINTER CONDITIONS
Inclement winter weather can have a significant impact on airport operations and runway safety.

For regions experiencing winter conditions, the presence of ice, snow, frost or even standing water can significantly impact runway safety. It is crucial that ATS personnel and pilots have access to the meteorological data and runway condition information they need to prepare for, respond to and ultimately mitigate the impact of winter weather.

StarCaster® D-ATIS is a comprehensive GRF broadcasting solution for winter operations built to reliably and accurately broadcast the RCR to pilots for all weather conditions and runway contaminants.
WHY CHOOSE STARCASTER?
StarCaster® D-ATIS is an internationally deployed text-to-speech broadcasting platform that provides an industry leading GRF solution for airports of all sizes.
GRF COMPLIANT
StarCaster® D-ATIS is
compliant with all ICAO and
Regional GRF requirements, including ICAO Circular 355 – Assessment, Measurement and
Reporting of Runway Surface Conditions;
ALL WEATHER CONDITIONS
StarCaster® D-ATIS includes GRF
functionality to broadcast RCR data for all weather conditions and runway contaminants, including Snow, Ice and Wet Only runway conditions;
EDIT/CREATE RCR DATA
StarCaster® D-ATIS is built for ATS Personnel and other system users to view, edit, create and listen to RCR data prior to broadcast by the ATIS;
BROADCAST THE RCR
StarCaster® D-ATIS utilizes its exclusive Text-to-Speech (TTS) technology to produce a clear and natural sounding broadcast of the RCR via
VOICE-ATIS and D-ATIS.
Operational Benefits
Improve runway safety with StarCaster D-ATIS
User interface designed to provide efficient RCR data entry and editing capabilities;
Seamless system integration for automatic
reception and handling of RCR from the Airport side via AFTN/AMHS, AIS/AIM or other 3rd party system;
Validation engine that ensures that only valid RCR
information will be used operationally by StarCaster®;
Ability to speak the data per runway third, as preferred by pilots;
Logging of received and processed RCR data to support system monitoring.
Contact us
Ready to see how StarCaster® D-ATIS can enhance your implementation plans for GRF? Contact STR and our industry experts to discuss your GRF implementation strategy and D-ATIS requirements.
Address:
212 – 1001 Cloverdale Avenue
Victoria, British Columbia V8X 4C9
Canada