A Leader in Text-to-Speech Technology for Aviation
StarCaster® uses exclusive Text-to-Speech technology purpose-built for aviation that
creates clear and consistent broadcasts in a natural voice
StArcaster
StarCaster® D-ATIS is a service-oriented broadcasting solution that can be deployed as a standalone tower system, a hosted service for multiple towers, or a cloud-based subscription service. It utilizes web-based technologies to deliver a feature-rich HMI to both operational and technical users accessing the system via a common web browser from networked devices.
WHY STARCASTER® ATIS?
• Clear, natural voice

• Enhances flight safety

• Reduces workload

• User-friendly

• Available in multiple languages

• Cost-effective
TRANSMISSION OF ATIS MESSAGES
• HF/VHF radio using Analog outputs

• ED-137 compliant VoIP

• Datalink connectivity to ACARS-equipped aircraft
DATA SPECIFICATIONS
• Automatically receives ATIS weather information from the facility's existing weather data source (e.g. AWOS, or AFTN/AMHS)

• This weather information is incorporated into the ATIS message along with runways in use, field conditions and NOTAMs
D-ATIS FOR MANDATORY GRF BROADCASTS
• The ATIS is the mandatory source for reporting the Runway Condition Report (RCR) to pilots via VOICE-ATIS and/or D-ATIS

• Compliant with all ICAO and Regional GRF requirements

• Provides GRF functionality to broadcast RCR data for all weather conditions and runway contaminants, including Snow, Ice and Wet Only runway conditions

• Built for ATS Personnel and other system users to view, edit, create and listen to RCR data prior to broadcast by the ATIS
LEARN MORE ABOUT GRF AND D-ATIS
Key Features
Automatic Terminal Information Service (ATIS) is for air traffic management and controllers who need a reliable method of generating ATIS broadcasts that pilots can easily understand.
CONTACT US TO BOOK A DEMO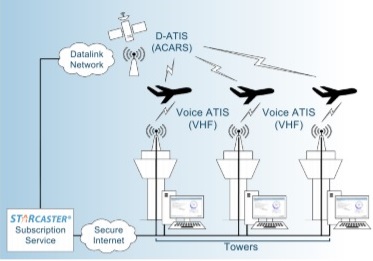 CONSISTENT BROADCASTS
Combines weather information with airport operational data, field conditions and NOTAMs to produce an ATIS message in as little as 30 seconds.
DATALINK CONNECTIVITY
Automatically generates a textual message for DATALINK transmission to ACARS-equipped aircraft.
FLEXIBLE DEPLOYMENTS
Can be deployed as a standalone system for a single tower, a hosted solution for multiple or remote towers, or a cloud-based service over secure internet.
MULTIPLE LANGUAGES
Produces ATIS broadcasts in English, French, Portuguese and Spanish with other languages available upon request.
VOICE QUALITY
Exclusive Text-to-Speech (TTS) technology generates the most natural sounding voice with unrivalled clarity.
SAFETY COMPLIANT
Fully complies with ICAO International Standards and Recommended Practices (SARPs).
Contact Us
Thank you for visiting us! Your call will be responded to promptly by our team.
Address:
212 – 1001 Cloverdale Avenue
Victoria, British Columbia V8X 4C9 Canada
Hours:
Monday to Friday 8:30 am – 5 pm.
(Pacific Standard Time) (GMT -8).